DIY Home Improvement Projects to Increase Property Value
Posted by Shanan Shepherd on Tuesday, September 12, 2023 at 8:49:28 AM
By Shanan Shepherd / September 12, 2023
Comment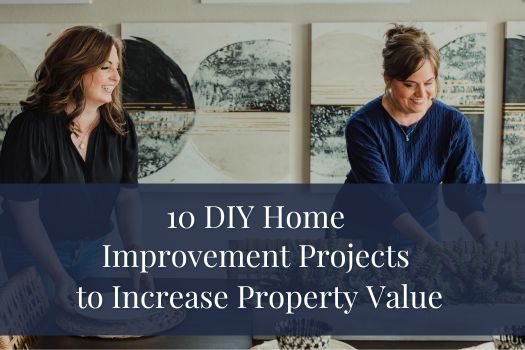 Your home is not just a place to live; it's also a valuable asset. Whether you're planning to sell soon or just want to enhance your living space, making strategic home improvements can significantly boost your property's resale value. The good news is that many of these improvements can be tackled as DIY projects, saving you money on labor costs while increasing your home's appeal to potential buyers. Today, we'll explore some DIY home improvement ideas that can help increase your property's value and attract both buyers and sellers.
1. Curb Appeal Enhancement
First impressions matter. A well-maintained and visually appealing exterior can instantly attract buyers. Consider simple DIY projects like repainting your front door, adding potted plants, or installing outdoor lighting to create an inviting entrance.
2. Kitchen Upgrades
The kitchen is often the heart of the home and a major selling point. You don't need a complete renovation to make a difference. Replace outdated cabinet hardware, install a new backsplash, or upgrade to energy-efficient appliances to modernize your kitchen.
3. Bathroom Refresh
A clean and updated bathroom is a selling feature. Consider regrouting tiles, replacing faucets and fixtures, or adding a fresh coat of paint. A new vanity mirror or stylish lighting can also make a significant impact.
4. Energy-Efficient Improvements
Eco-friendly features not only save you money on utilities but also appeal to environmentally conscious buyers. Install programmable thermostats, seal gaps in windows and doors, and consider adding insulation to increase energy efficiency.
5. Landscaping Makeover
A well-manicured yard can significantly increase your home's curb appeal. Trim overgrown bushes, plant colorful flowers, and mulch garden beds. If you have the space, consider creating a cozy outdoor seating area.
6. Fresh Paint
A fresh coat of paint can transform the look and feel of your home. Stick to neutral, light colors that appeal to a broad range of tastes. Painting interior walls, ceilings, and even the garage can make spaces look cleaner and more inviting.
7. Flooring Updates
Outdated or worn flooring can be a turn-off for potential buyers. Consider replacing carpets with hardwood or laminate flooring, or simply refinishing existing hardwood floors for a refreshed look.
8. Smart Home Technology
Today's buyers appreciate smart home features. Install a smart thermostat, doorbell camera, or a home security system that can be controlled remotely. These upgrades not only enhance convenience but also add value to your property.
9. Declutter and Organize
A clutter-free and organized home appears more spacious and attractive. Invest time in decluttering your home, organizing closets, and creating a sense of flow in your living spaces.
10. Create Additional Living Space
If possible, finish an unfinished basement or attic space to create extra living areas. A bonus room can be a valuable selling point and increase the overall square footage of your home.
Boosting your property's resale value doesn't always require a massive renovation budget. With a bit of creativity, effort, and some DIY skills, you can make strategic home improvements that attract both buyers and sellers. Remember, the key is to focus on projects that offer the best return on investment and enhance the overall appeal of your home. Whether you're planning to sell or simply want to enjoy a more comfortable living space, these DIY home improvement ideas are sure to make a significant impact.
If you have questions about where you should start in your home, use the chat function on our website or contact us here.